If you're looking to install a WordPress theme, we'll introduce you to the Nodeeweb WordPress theme in this post. We'll also provide a complete explanation of its advantages and installation process.
What are the advantages of the Nodeeweb WordPress theme?
The Nodeeweb WordPress theme offers several advantages:
Speed and Performance:
The theme is built on the Node.js framework, which is known for its high performance and scalability. Node.js enables faster processing and handling of website requests, resulting in improved speed and overall performance.
Modern and Responsive Design:
Nodeeweb provides a modern and visually appealing design that is responsive and optimized for different devices and screen sizes. It ensures a seamless user experience across desktops, tablets, and mobile devices.
Enhanced User Experience:
The theme focuses on delivering an excellent user experience by utilizing advanced JavaScript techniques and interactive elements. This can include smooth scrolling, dynamic content loading, animated transitions, and other engaging features.
SEO-Friendly:
Nodeeweb is designed with search engine optimization (SEO) best practices in mind. It incorporates clean and optimized code, proper HTML structure, and schema markup to improve your website's visibility in search engine rankings.
Customization Options:
The theme provides extensive customization options, allowing you to personalize the appearance and functionality of your website. You can customize layouts, colors, fonts, headers, footers, and other design elements to match your brand and preferences.
Plugin Compatibility:
Nodeeweb is compatible with various WordPress plugins, giving you the flexibility to extend the functionality of your website. Whether you need contact forms, social media integration, e-commerce capabilities, or other features, you can leverage the wide range of plugins available in the WordPress ecosystem.
Developer-Friendly:
The theme is developer-friendly and follows coding standards, making it easier for developers to work with and customize. It offers a robust foundation for building advanced WordPress websites and allows for seamless integration of custom functionalities and third-party APIs.
Regular Updates and Support:
Nodeeweb is actively maintained and updated by its developers, ensuring compatibility with the latest WordPress version and security patches. Additionally, reliable support is often available in the form of documentation, tutorials, forums, and direct assistance from the theme developers.
The installation method of the Nodeeweb WordPress theme
Log in to your WordPress Dashboard: Enter your WordPress admin area by visiting "yoursite.com/wp-admin" and logging in with your credentials.
Now, navigate to the "Appearance" section and click on "Themes".
Click on "Add New" and search for "Nodeeweb" in the theme search box.
The Nodeeweb theme will be displayed, and you can install it by clicking the "Install" button, followed by the "Activate" button. Now you can use the Nodeeweb WordPress theme.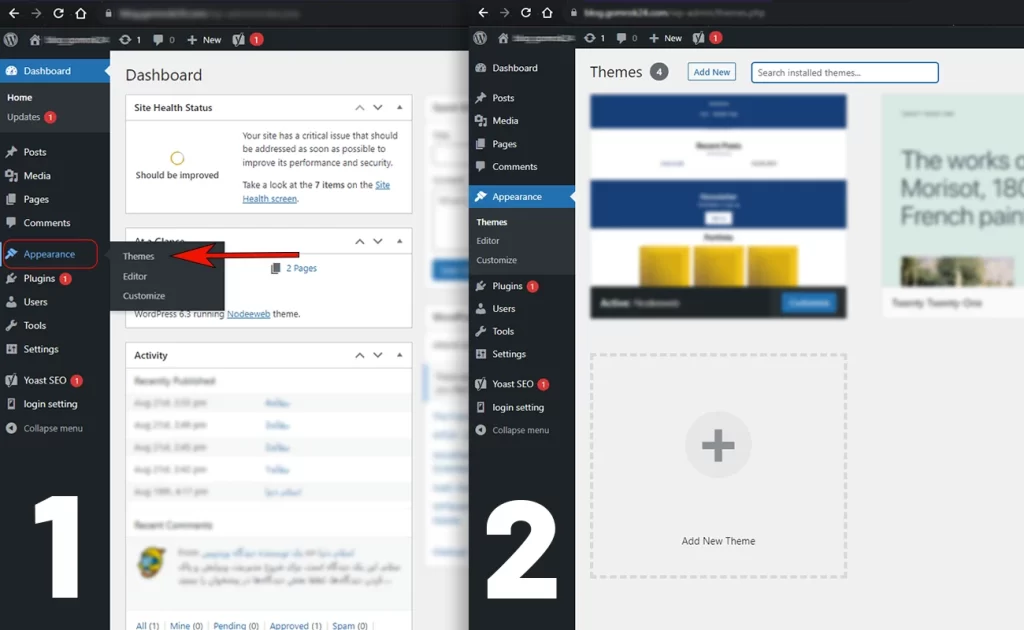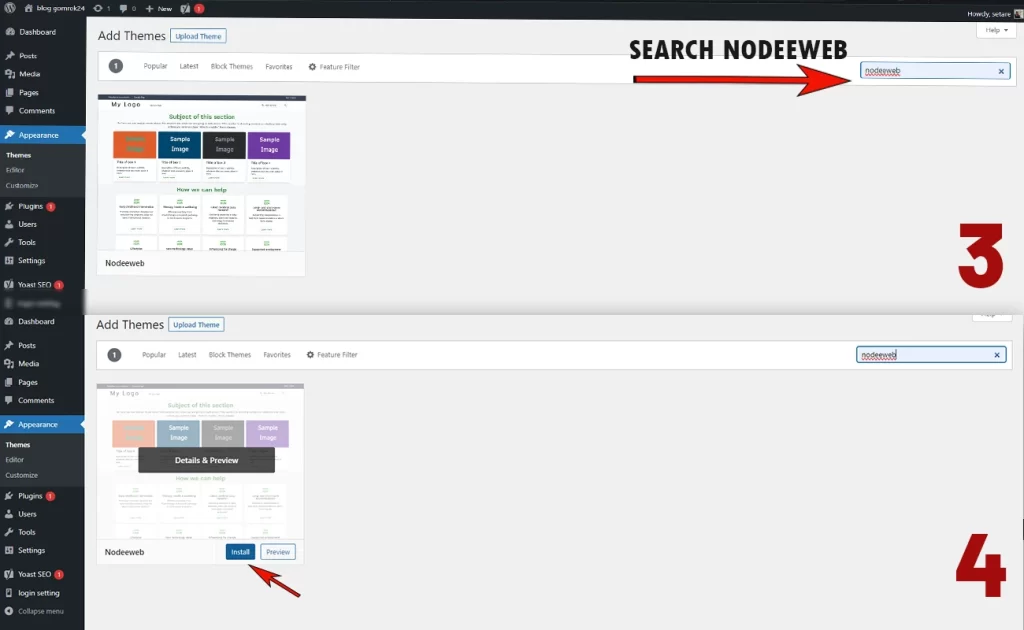 ready-made templates for Nodeeweb themes
The Nodeeweb WordPress theme comes with a collection of highly practical pre-designed templates. With these templates, you don't need to design and structure your website from scratch. You can customize the ready-made templates by changing colors, content, and more to meet your website's specific needs.
Three-box & Four-box pattern
Using these three and four-column boxes, you can showcase features or any descriptions you have. Place an image for each, write a title and a short description, and include a button that directs users to that specific page. You can utilize this template to introduce your website's services, features, and even products.
Service box pattern with icons
To introduce your company's services, you should consider using visually appealing boxes that attract users' attention and encourage them to read and understand your website's services. Therefore, placing boxes that include icons and titles is an appropriate choice.
So, to showcase your services, simply utilize the pre-designed template of the Nodeeweb theme.
Call to action pattern
The advantage of a call to action (CTA) on a website is that it prompts and encourages visitors to take a specific action that aligns with the website's goals.
Instead of designing a call to action yourself, use the pre-designed template of the Nodeeweb theme. This template provides a designated space for placing an image and two buttons.